※For every ¥200(Excluding tax) you will receive 1 points (Beer vouchers,tobacco,newspapers are excluded).
Upgrade Point Card Program
アップグレード ポイントカード プログラム
The more you shop, the more points you earn!
Data is used from the previous year purchases.
たくさんのお買い物をして、ランクアップ!
ポイント倍率が前年のお買い上げ額に応じて増える、
さらにお得なサービスが受けられるプログラムをご用意しました。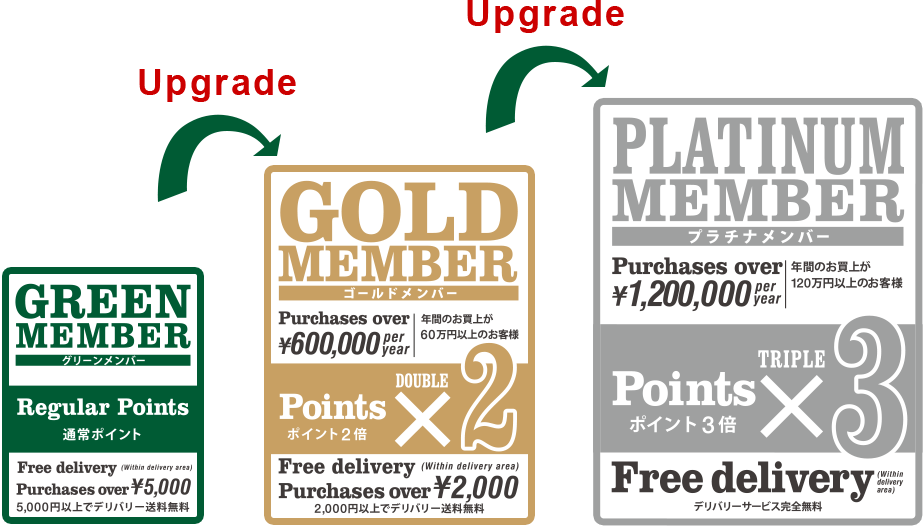 ※Excludes Beer vouchers,Tobacco, Newspaper ※The card/member status will be revised every year, using purchase data from January to December.
※Eligible for a period of one year from February till the end of January of the following year
※This service is valid only at the store that you are registered at ※During triple point sales period, all members will receive triple points (x 3)
※ビール券、たばこ、新聞は除く。ランクはお客様の毎年(1月~12月)の達成条件により変動いたします。
※サービス対象期間は翌年の2月から1年間となります。※このサービスは登録店舗のみ有効です。
※ポイント3倍セール時は全ての会員様がポイント3倍となります。